Courtesy Chrysler Dodge Jeep RAM Annual Black Friday Event
MESA, Arizona Friday, November 29, 2019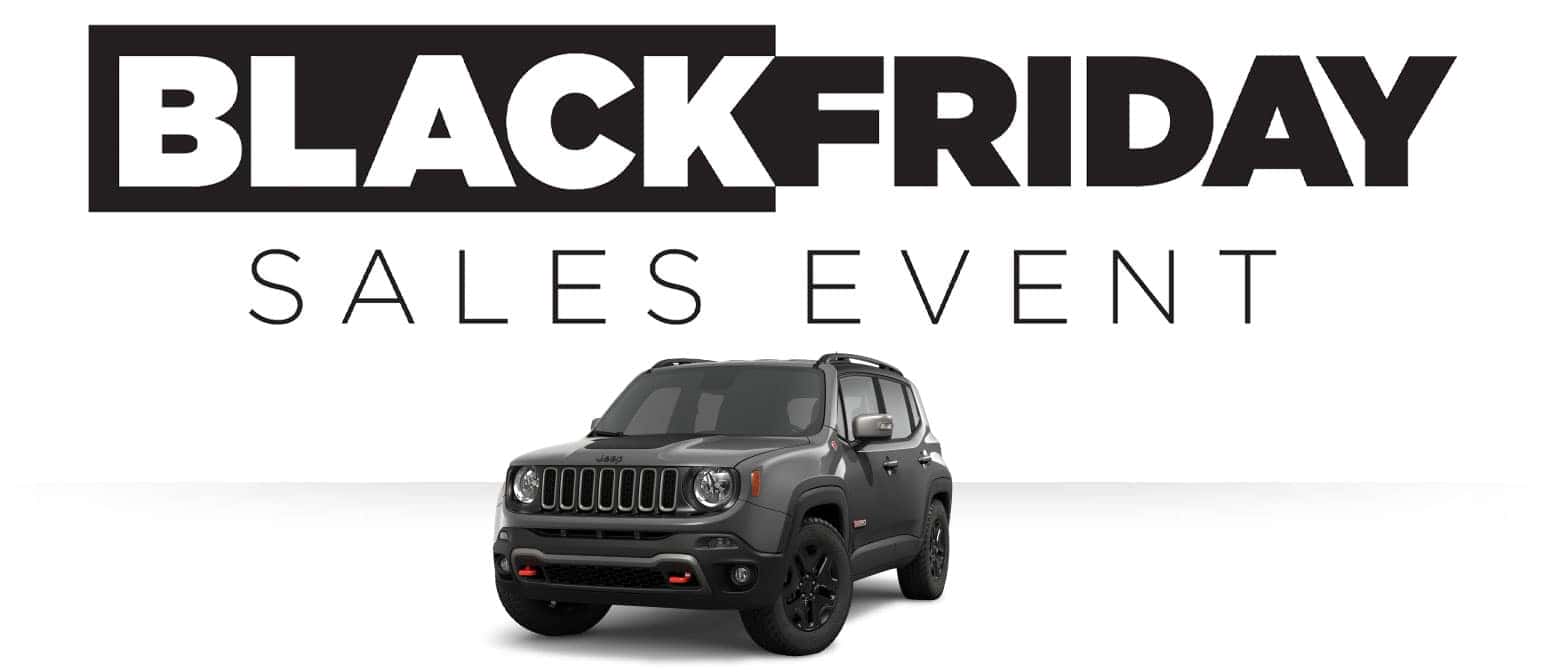 Every New or Pre-Owned purchase receives a $500 Gift Card
First 50 qualified vehicle purchases are entered into a drawing for a brand new 2019 JEEP RENEGADE (MUST PURCHASE A VEHICLE SALES PRICE AT $8,000 MINIMUM TO BE ENTERED INTO THE DRAWING.
10 used cars on sale from $999 – $4,999 (10 cars to choose from. First come first serve.) + tax, title and license. VEHICLES SOLD "AS IS" we probably need a full disclaimer on this
Raffle Information – Black Friday 11/29/2019 Courtesy CJDR SUPERSTITION SPRINGS
Must be 18 or older to enter doorbuster or grand prize raffles.
1 golden raffle ticket per qualified VEHICLE PURCHASED (vehicle PRICE AT $8,000 OR GREATER)
Limit one doorbuster prize raffle ticket per family. NO PURCHASE NECESSARY.
The maximum amount of golden raffle tickets accepted will be capped at 50 and will be cut off at 7:00pm on 11/29/2019 whichever comes first. Worst case scenario, you have a 1/50 chance of winning a brand-new car.
Once the customer has completed their QUALIFIED VEHICLE purchase, their golden raffle ticket will be entered into the drawing for the grand prize.
The first 50 customers to purchase on 11/29/2019 by 7:00 Whichever comes first will be entered to win the new 2019 JEEP RENEGADE. Example: If we only sell 40 cars on 11/29/2019 each customer has a 1/40 chance of winning a brand-new car.
Grand prize raffle drawing and doorbuster raffles drawing will be announced at @ 7:30 PM in the new car showroom of Courtesy CHRYSLER DODGE RAM on 11/29/2019 and customers that have entered the drawing must be present to win. No exceptions. Customers who purchase on Black Friday that enter the raffle cannot send in a family member or friend in their place to attend the raffle, the customer(s) who purchased the vehicle must be present to win. If your name is called and you are not present, we will continue to draw raffle tickets out until there is a customer present that wins. Grand prize 2019 JEEP RENEGADE cannot be exchanged for cash value. Any vehicle(s) that the customers purchased during the sale cannot be canceled or returned because they have won the new vehicle. The customer is responsible to pay for taxes, doc fee, and registration/plates for the 2019 JEEP RENEGADE. Must present a valid government-issued ID to verify identity to redeem a doorbuster prize or in the event, your golden ticket is drawn for the new vehicle raffle.
In the event the customer finances, their deal must be finalized with the bank and Courtesy CJDR must be funded by the bank who finalized the loan before the grand prize vehicle is released. Photo/Video release form: Courtesy Auto Group reserves the right to use/publish your photograph/video and/or use them for future promotional events and marketing.
Current employees of Courtesy Auto Group are not eligible for this promotion.